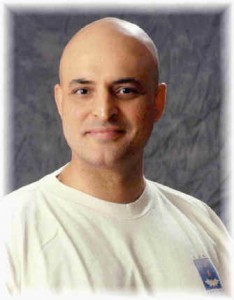 Aadil Palkhivala's experience of holistic healing was originally prenatal, as his mother practiced yoga with B.K.S. Iyengar throughout her pregnancy.  Aadil began observing Iyengar's classes at the age of three, commenced formal study at the age of seven, and was awarded his Advanced Yoga Teacher's Certificate at the age of twenty-two.  Nearly thirty years later, Aadil is recognized as one of the world's top yoga teachers.
Aadil and his wife, Mirra, are the founders of Purna Yoga, a holistic synthesis of yogic traditions based on the work of Sri Aurobindo and the Mother of Pondicherry, India.  Aadil and Mirra also founded Yoga Centers in Bellevue, Washington, and The College of Purna Yoga. Aadil teaches at Yoga Centers and throughout the United States, Canada, Mexico, Europe, India, and other parts of Asia. 
Aadil is the author of Fire of Love: For Students of Life and Teachers of Yoga and has written extensively for Yoga Journal.  He is the president and founder of Eastern Essence, a line of organically-grown-and-processed, dehydrated, Ayurvedic Indian food.  Aadis is also the president and CEO of The Innerworks Company, which assists people in achieving a better quality of life through a humanistic approach to wealth and health.