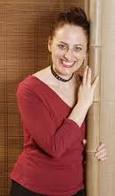 Leza Lowitz is an American poet, essayist, fiction writer, and yoga instructor living in Japan.  After earning an MA in Creative Writing, Leza moved to Tokyo, where she became an interpreter of Japanese culture to a western audience, as well as an essayist on art and literature for Japanese publications.
Leza has won numerous awards for her writing, including the PEN Syndicated Fiction Award, an NEA fellowship in translation, and two nominations for the Pushcart Prize in poetry.  Her diverse literary endeavors include publishing several volumes of poetry and a collection of short stories, editing two anthologies of Japanese women's poetry, and co-authoring guides to sacred Sanskrit words and Japanese kanji characters.
Leza also directs the Sun and Moon Yoga Studio in Tokyo.  For more information on her multifaceted career, see www.lezalowitz.com.